Intogen
A discovery tool for cancer researchers
Cancer Genome Interpreter
Platform to facilitate the interpretation of alterations in a patient's tumor.
OncoPaD
web-tool for the rational design of cancer NGS panels based on mutational data
OncodriveFML
a method to analyze the pattern of somatic mutations across tumors in both coding and non-coding genomic regions to identify signals of positive selection
Gitools
Framework for the interactive visualization of genomic data heatmaps.
OncodriveFM
Method to identify genes bearing mutations with significant shift towards high functional impact across a cohort of tumos (FMbias), which are candidates to function as cancer drivers.
OncodriveROLE
A method to classify cancer driver genes into to Activating or Loss of Function roles.
OncodriveCLUST
A method to identify genes in which mutations accumulate within specific regions of the protein
Condel
A method to integrate the output of various methods to identify deleterious non-synonymous variants
Transfic
A method to transform Functional Impact scores taking into account the differences in basal tolerance to germline SNVs of genes that belong to different functional classes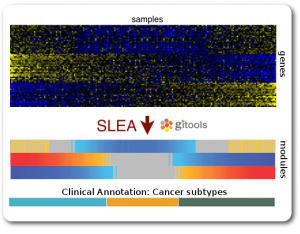 SLEA
Method to analyze the collective transcriptional status of gene modules across samples
OncodriveCIS
A method to identify genes that accumulate copy number alterations important for tumour development
jHeatmap
Javascript library to create interactive heatmaps within webpages