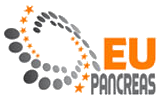 Since last year I am participating in the COST Action BM1204 titled "An integrated European platform for pancreas cancer research: from basic science to clinical and public health interventions for a rare disease", and in particular in its Work Group focus on "Omics Data Integration".
As part of this Work Group, we have prepared a training workshop that will take place in Heidelberg, Germany on February 14, from 1-5pm. The covered topics fit into a series of workshops that will be organized within this COST Action.
The program of the workshop involves:
·        "COSMIC: the world's knowledge of somatic mutations in human cancer" (Simon Forbes, Wellcome Trust Sanger Institute, UK)
·        "Finding cancer driver mutations in tumors using IntOGen-mutations" (Nuria Lopez-Bigas, University Pompeu Fabra, Spain)
·        "Exploring the Pancreatic Expression Database" (Claude Chelala, Barts Cancer Institute, UK)
·        "Variant prioritization by genomic data fusion" (Yves Moreau, KU Leuven University, Belgium)
The target audience is anyone interested in learning how to explore and analyze existing omics data for cancer, special focus will be given to pancreatic cancer.
Registration to the workshop can be done by sending an e-mail to mdliebanes@cnio.es. The local host in Heidelberg (Jörg Hoheisel) can provide help with the reservation of hotel rooms. Please specify whether you would like to take advantage of this service. Due to the practical nature of certain sessions, applicants will be accepted on a first come first served basis.
Participation is free. Reimbursement of for instance travel expenses is possible when being affiliated to a COST member state, participating in the Action (list of member states), upon having created an account via e-COST (https://e-services.cost.eu/?module=user&action=signupForm). When in doubt about being eligible for a refund, please consult mdliebanes@cnio.es
Looking forward to see you in Heidelberg!.
Núria